Martine Inn is bed and breakfast bliss by the bay

By DEBRA LO GUERCIO

©Copyright 2001,2002, Debra Lo

Guercio

, all rights reserved


If you do only one nice thing for yourself in this lifetime, let it be a stay at the Martine Inn. Located in Pacific Grove on Monterey Bay, the pale pink bed and breakfast overlooking the waterfront is truly a little slice of heaven.

The spacious Victorian home was constructed in 1899 and purchased in 1901 by Laura and James Parke, of Parke Davis Pharmaceuticals, for their family home. Over the years, the house was remodeled and the exterior transformed to a Mediterranean style house, complete with a walled courtyard, carriage house and maid's quarters.

The home was purchased by Don Martine, in 1972. Over the next 12 years, Don threw his soul into refurbishing the grand estate, making sure that the Victorian interior was perfectly preserved, down to the claw-footed bathtubs and inlaid mahogany floors.

When the front door of the Martine Inn closes behind you, the rest of the world stays outside. My traveling companion and I left our bags, as well as the stresses and strains of life at the door, and were escorted past a Victorian style library, where we were invited to sit and enjoy the collection of vintage books. Out in the courtyard, the only sound was the trickling of the Oriental fountain, where bright orange koi rested in the shadows. The white wicker chaise lounges beckoned us to relax among the by puffs of lavender hydrangeas and towering pink foxglove. If bliss could be photographed, this is how it looks.

And the rooms. Oh, the rooms. Each of the 24 rooms is exquisitely adorned with fine antiques and ornate Victorian decor. Although the style throughout the rooms is consistent, each one is unique, thanks to the painstaking attention to detail given them by the proprietor, Don Martine.

Martine hunts and dickers for the collection of stunning antiques in each room, and suffers over the most minute feature, like whether the blue trim in his just-finished suite perfectly offsets the blue in the flowered wallpaper. While Martine has an exquisite flair for creating an authentic Victorian ambiance, not all of the rooms are simply serendipitously blended ensembles. Some are actual bedroom sets purchased in total and reassembled in the rooms.

One room features the bedroom suite of local publishing magnate C.K. McClatchy, right down to his bowl and pitcher set. In another room sits the bedroom set of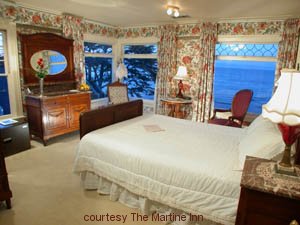 Oscar-winning costume designer Edith Head, while another highlights the Malaren Estates mahogany suite, exhibited in the 1893 Chicago Worlds Fair. Whether an original ensemble or one of Martine's creations, each room welcomes its guests with a bowl of fresh fruit and a vase of red roses, as well as any amenity one could desire, from fluffy white towels to chilled, bottled water.
Besides the lovely detail of each room, another delightful feature of the Martine Inn is privacy. A common complaint from patrons of bed and breakfast inns is the lack of privacy -- walls are often thin and bathrooms communal. Not so at the Martine Inn. Each room has a private bathroom, beautifully complementing the room in which it sits.
The inn is so quiet and private that at times it felt like surely we were the only people on the grounds, maybe in the whole world. We forgot that anyone else was around. But they never forgot us. The staff at the Martine Inn is truly remarkable. They seem to know exactly what you need before you know yourself, are immediately present if you need any tiny little thing, and disappear like wisps of smoke to leave you alone to enjoy the surroundings.
We got our first taste of this attentive hospitality when we ventured out to the dining parlor the afternoon we arrived. A tempting display of wine, cheese and veggies was waiting on the table, as well as cookies, coffee and tea in the foyer. The hostess popped in and asked if we were in need of anything. The only thing we might possibly have needed was a pinch to see if we were dreaming.
We thanked her and mentioned that we were heading for the hot tub (true, that is one decidedly un-Victorian feature, but no one's complaining) and within moments, she returned with matching bathrobes. She seemed reluctant to subject us to the effort of actually carrying them to the hot tub ourselves, but we assured her that we could handle it and proceeded to melt our cares away in the steamy, swirling water.
Does it get any better than this? Yes, it does. By the time we returned to the room, our sheets had been turned down and mints placed on each pillow. I had to put my hand to my chin and physically close my mouth.
As evening rolled around, we were torn -- wander around a bit and get some dinner or stay right there and just enjoy the surroundings? We opted for a rather quick tour and meal, as it seemed a shame not to spend every possible moment at the inn. Beautiful as it is, however, there is plenty to do and see just outside the front door.
The Martine Inn sits adjacent to a walking path that stretches around the southern end of Monterey Bay. On one side of the path are the deep blue white-tipped waters, on the other are charming homes (many of them Victorian), guarded by towering cypress trees twisted and shaped by the relentless ocean wind.
The path winds up to the ocean at the south end, and at the other, can be followed all the way to Monterey's impossibly charming wharf with two piers. One is an actual working fishing pier, while the other is lined with restaurants offering a delectable array of seafood, as well as gift shops displaying the usual oceanside trinkets. From that pier, you can also catch a bay cruise or go on a whale watching excursion.
It is a long walk from the Martine Inn to the wharf. Allow yourself at least 20 minutes. If an afternoon at the inn leaves you too relaxed for a lengthy pre-dinner stroll, there are plenty of restaurants in the Cannery Row area, only a couple blocks away. If you love seafood, you'll love dining in Monterey. I've been there on several occasions and have deduced that no matter which restaurant you choose, the food will be delectable. Just pick one. When in doubt, order the calamari. You can't go wrong.
Besides the many culinary delights near the Martine Inn, there is a variety of shops and clubs to visit, and the spectacular Monterey Bay Aquarium, featuring local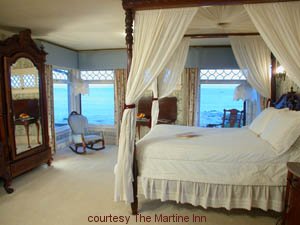 marine plants and animals as well as some more exotic creatures like seahorses and jellyfish. Tandem beach bikes are available for rent, as are vintage automobiles.
Of course, the natural delights of the ocean -- the crisp, salty air, and sparkling blue waves crashing on warm golden beaches -- are undoubtedly the loveliest attraction. Whether it's the wild water on the open oceanfront or the kinder, calmer bay, spending time oceanside is surely the best therapy on earth.
Sadly, we didn't spend much time at the beach, or even the shops and clubs. The Martine Inn was entirely too lovely to leave. After a day of pampering, good wine and good food, the big, soft beds and quiet hush of the inn lull one into peaceful sleep that could only be topped if spent in a mother's arms.
When morning peeks through the curtains, it's time to reluctantly pluck yourself out of bed and head for the dining room, where breakfast awaits. It is decidedly worth the effort.
Early risers that we are, we had the entire room to ourselves -- nothing but the lapping blue bay outside the windows and the occasional crackle and snap from the fireplace. As before, the Martine staff made us feel as though we were the only people on earth.
We were treated to much more than just a cursory plate of croissants and coffee. We enjoyed freshly squeezed orange juice, just-baked muffins with bits of pear, wedges of fresh pineapple and delicate omelets laced with fresh spinach and (of course) Monterey Jack cheese, all presented on china, silver and crystal.
With our tummies delightfully full, there was still time to wander over to the game room for a game of billiards on an antique table (I was soundly beaten) and enjoy the courtyard for just a bit longer. Then came the time neither of us looked forward to: leaving. We packed up our bags and bid our farewells, but not before being given a personal tour of the grounds by Don Martine, who is as passionate about his inn as he is his collection of MG automobiles. A curious but delightful combination of ruggedness and amiable charm, Martine escorted us to this room and that, pointing out the finer details in each and telling stories of how he came upon this piece and that. Once you meet the man, the inn makes sense. He loves this place, and he wants his guests to love it too.
Stopping to fuss over the exact height at which a recently purchased painting should be hung by workman, Martine summed it all up: "We just don't take enough time be good to ourselves."
Take the time to be good to yourself and visit the Martine Inn. You'll come away asking the same question we did: How soon can we come back? One thing for sure -- you won't ever want to leave.
Located at 255 Oceanview Boulevard in Pacific Grove, rooms at the Martine Inn range from $170 to $300 per night. The inn can accommodate singles, couples or groups of up to 125 guests, as well as weddings and private conferences. For more information or reservations, call (800) 852-5588, or visit their website, www.martineinn.com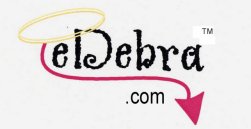 Home Page