Hotel Carlton is your San Francisco home

By Debra LoGuercio
©Copyright 2006, 2007, Debra LoGuercio, all rights reserved
I have found my San Francisco home-away-from home. Itís called Hotel Carlton. Over the years, Iíve visited this hotel and that, constantly tweaking the SF process to perfection, and now Iím done. The search is over, this is where Iím staying from now on.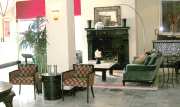 Oddly enough, the reason Iím so enamored with this place is not actually the hotel itself, per se. Itís a charming place, built in 1927, with a fascinating global dťcor -- all sorts of cross-cultural, multi-ethnic adornments. The rooms are modern, comfortably furnished and spotless. But unless youíre in a dive or a five-star, a hotel is a hotel is a hotel, really. Most middle-range hotels are charming and clean, with welcoming lobbies and rooms with all the trimmings, like reasonably comfy beds, nice bathrooms, blow-dryers and coffee makers. Hotel Carlton gets a check in all those categories, and even boasts a complimentary early evening wine hour.
What makes this hotel simply sparkle is its staff. They are helpful, warm, funny -- itís only been a few days and I miss them already! I have relatives I donít miss that much! Here are two names to jot down when you go for your visit (I say ďwhen,Ē because if you donít go, youíre nuts): Theo McKinney and Angelo Reyes.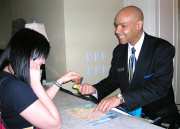 Theo, the front desk manager, is adorable. He just bubbles. He dotes on each guest like theyíre his best friends, and admits that return customers become family. Indeed, as we were checking out, a happy young lady slung her bag over her shoulder, blew Theo a kiss and said, ďSee you again next year!Ē Theo beamed and waved, and explained that itís easy to make guests feel special and cherished if you truly enjoy your job. And he obviously does. Heís having fun, the energy around him is light and you have to fight the urge not to wrap a bear hug around him when you leave. I love this man.
Then thereís equally adorable Angelo, one of the front desk clerks. First off, heís laser-efficient. If you travel much, youíll appreciate this. The paperworkís in order, the roomís in order, your name is right, if you need your car heís already called for it, heís on top of everything. Best of all, Angelo has an excellent grasp of the surrounding area and knows how to tailor whatís nearby to a guestís needs, whether itís dining or planning a walking route or figuring the best strategy for getting to the theater on time. He can even tell you how to dress.
Angeloís got a gift for sizing people up. For example, when asked if it would be OK for my daughter and I to walk to the Orpheum Theatre and back at night, he scowled a little. Unless you make a huge circle, you have to go through the Tenderloin, where the street life is (how shall we say this) a little too ďcolorful.Ē He didnít exactly say donít walk there, but with a sly grin said, ďWell, how fast can you run?Ē
To make it simple, Angelo pulled out a walking map and colored in an area several blocks southeast of the hotel, and said ďDonít go there.Ē And we didnít. (Theo called us a cab, of course.)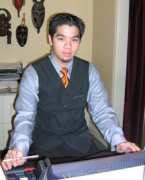 Angeloís next advice was about food (we were craving thai), and he was spot-on. There are two thai restaurants within two blocks of the hotel. Ozone, located upstairs at the corner of Sutter and Polk, features a modern Asian ambiance, and the food is simply outstanding. Our tiny waitress was the most attentive, sweet, darling little gal Iíve ever seen. We enjoyed grilled shrimp salad, shrimp fried rice and thai spaghettini -- all of it -- and pretty much had to waddle out.
The following day, the plan was to go to North Beach for dinner and eat Italian at Sodiniís, another place I discovered by asking the locals where they eat. Sodiniís is pasta heaven. A trip to San Francisco without a stop at Sodiniís is, well, sad. But the thai was to dhai for. Forget North Beach, letís go back to Ozone.
Unfortunately, Ozone was closed on that late Sunday afternoon, so we toddled (which is all you can do after climbing San Francisco streets all day) back to the hotel to see if there was another option. There was -- Modern Thai, located on Polk a block north and across from Ozone. And Theo personally called ahead to see if it was open so we wouldnít have to traumatize our tired tootsies for naught. (I love this guy, have I mentioned that?)
Modern Thai has a more traditional atmosphere, with ornate woodwork and portraits of ancestors, and an open-air patio. Like Ozone, the service was excellent and the food amazing: Som tom (papaya salad), pad thai (noodles/tofu), yellow curry shrimp, a little peanut sauce for the steamed rice and donít even kid yourself that thereíll be leftovers to take home. Yes, weíd thaiíed and gone to heaven. (Go ahead, smack me.) I canít tell you which place I loved more. Iíll have to revisit each one until I have an answer. Donít hold your breath.
So, does this mean youíll be filling up on Thai? I hope not, because Hotel Carlton has a wonderful restaurant right there on its premises, Saha, featuring what they call ďArabic fusion cuisine.Ē Think couscous. Egglant. Lamb. Yum. Because weíd eaten already, we stopped at Saha for dessert -- pear tart, crŤme brulee and herbal tea. Perfect. But the platters of tempting, aromatic wonders that went past us to other tables made me wish we had an extra evening to spend at Saha.
We had a morning, however, and breakfast at Saha was salmon benedict for me, with sliced avocado and salmon cakes instead of English muffin (Oh. My. God.) and tofu scramble for my exasperatingly vegetarian daughter. There wasnít a crumb left on either plate. Sure made me wish for more time to try Sahaís tempting entrees. Darn. Guess weíll have to go back.
If youíve ever stayed in San Francisco in a hotel without an on-site restaurant, you know how wonderful it is to have one, particularly if youíve had a little too much fun the night before and had to wander down the sidewalk the next morning in search of breakfast. Speaking of wandering down the sidewalk, hereís another Hotel Carlton feature thatís a gem: the location, location, location.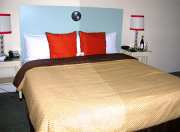 Situated on Sutter Street between Hyde and Larkin, youíre a couple blocks from Union Square, but just far enough away to be free of that throbbing tangle of tourists and panhandlers. Near Hotel Carlton, you see the real locals, like the guy with the iguana on his head or the guy whose dog carried his grocery bag or the guy who got into an argument with a trashcan, rather than herds of porky folks in Hawaiian shirts and fanny packs.
Sutter Street, running parallel to Geary and two blocks north, is the perfect compromise if you want to be near Union Square but not too. Itís a straight shot to the Chinatown Gate by foot, on the same street as the Marines Memorial Theatre and within walking distance of the San Francisco Museum of Modern Art. Freeway access is a snap. Youíre a stoneís throw from Van Ness, which becomes southbound Highway 101, and if you go around the block to Bush Street, youíll discover a very cool shortcut back to the Bay Bridge and I-80 east (thanks, Theo!). Another bonus of this very slightly off the track location: because youíre out of the prime Union Square area, rooms at Hotel Carlton range from $85-149 per night! (Add your own number of exclamation points!)
There is one little caution about Hotel Carlton, however: If you self-park your car at the nearby garage, and you see the little sign with an arrow pointing left to the entrance, go straight! Itís on Sutter! Do NOT -- repeat -- NOT turn left on Larkin! Larkin is a one way street, and thatís not the way. I found this out the hard way. Just in the nick of time, I might add. I also found out that a Chevy Impala can hang a U-ie in about 2.5 seconds under the right circumstances. Better to let Angelo take care of the car. Itís worth the extra $5.
What unkind things can I say about the Hotel Carlton? Not a one. I absolutely love, love, love this place, and the only way Iíll stay anywhere else is if thereís no vacancy. Having exposed my precious find to the world, I realize Iíve done myself a huge disservice. In the sad event that I (or you) find no room at the inn, let me share another secret. Hotel Carlton is managed by Joie de Vivre Hospitality, which specializes in boutique Bay Area hotels. This is the third of their properties Iíve reviewed, and this company is batting 1,000. They have an exquisite talent for choosing the loveliest, most unique hotels and wonderful staff. Iíd pick anything under the Joie de Vivre Hospitality umbrella without hesitation.
Hotel Carlton: darling hotel, darling rooms, darling staff, fabulous food, completely convenient and more-than-reasonably priced. Hereís the only San Francisco hotel phone number youíre ever going to need again: (800) 922-7586.

To find out more about Hotel Carlton, call (415) 673-0242 or go online to www.hotelcarltonsf.com.
The address is 1075 Sutter Street.
To find out more about Joie de Vivre Hospitality, go online to www.jdvhospitality.com.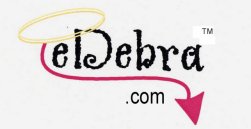 Home Page