Hotel Bijou deserves an Oscar

By DEBRA LO GUERCIO

©Copyright 2003 Debra Lo

Guercio

, all rights reserved




What would you say if I told you there's the sweetest little hotel you can imagine just a few blocks from San Francisco's Union Square, where you could stay for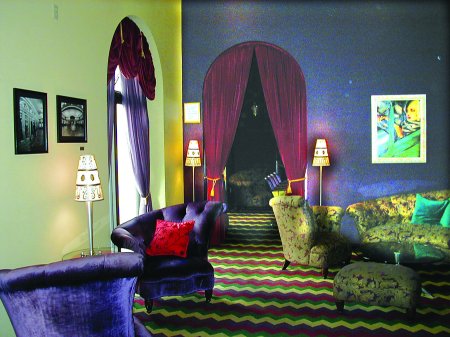 $99 per night including - INCLUDING - 24-hour valet parking?
I know what you'd say: You big, fat liarhead!
Well, take it back. I speak the truth.
The Hotel Bijou, at 111 Mason Street, is a completely renovated boutique hotel fashioned after the grand movie palaces of the '20s and '30s. Movies filmed in the Bay Area are the hotel's theme, and each room is dedicated to a particular film (we stayed in the "Cujo" room). There's a precious little theater, where videos of these films play every evening, with genuine antique movie palace seats.
The theater sits just off the lobby, decorated in a rich splash of color - vanilla, plum, burgundy, evergreen and gold, a color scheme that continues through the hallways and rooms. The décor is a deco-classic blend, featuring stylish juxtapositions like classic fabric on asymmetrically shaped loveseats and chairs.
If you're really into movies, the telephone at the end of the front desk connects you directly to the San Francisco Film Commission's recording, listing the movies being filmed locally that day. And you can do more than just observe --you could be an extra! The recording tells you how.
Classic movie prints and photos adorn the hallway, and it would be enjoyable to wander each floor and take it all in. But who has time for that! This is San Francisco, and there's so much to do! Who wants to stay in the hotel?
If those are your sentiments, you can't beat the Hotel Bijou. Unless it's a romantic getaway, when you WANT to spend time in your room, why throw money away on a hotel room that you aren't going to spend much time in anyway? Wouldn't you rather spend that extra $100-200 on great food, theater tickets and shopping, shopping, shopping? I know I would.
However, when I return to my room after climbing the San Francisco streets, I don't want to return to a dump. No worries about that at the Hotel Bijou. They do cut some corners to keep their rooms affordable, but if you know this in advance (and that's why you read this column!) it's no big deal. For example, you'll have to carry your own bags to your room. There's no bellhop. Nor are there coffeemakers in the rooms, so you'll have to wait for that morning cup of coffee until continental breakfast is served downstairs. (The coffee's great, by the way - ditto for the croissants.)
With your MDR of caffeine, you're ready to explore. But where? It's completely impossible to see all of San Francisco in one day, and the less time you waste driving and searching for parking, the better. Besides, there's plenty within walking distance of the Hotel Bijou: Union Square, the theater and financial districts, Chinatown, the Moscone Convention Center, the Yerba Buena Gardens, the Museum of Modern Art and the Metreon are all mere blocks away. Bring some comfortable walking shoes, hand the valet your keys and kiss your car goodbye. If you want to go farther than your feet can carry you, a $6 day pass buys unlimited city transportation, including the cable cars and BART. For our visit, however, feet were just fine.
Our itinerary included stops at our old favorites, Scala's Bistro and Lori's Diner and the Marine's Memorial Theatre, and Chinatown and the Museum of Modern Art. Scala's was wonderful, as always, although the service is infinitely better when you're with an adult rather than your teenaged daughter. Grrrrr. However, Kids are welcome at Lori's Diner (Sutter and Powell), a true fun food spot.
We were early for our show, so we wandered around and happened onto the Martin Lawrence Galleries at 366 Geary Street. Genuine Picassos and Warhols were on display, but my daughter and I fell in love with the Erte sculptures. Cast in solid bronze, each features an ornately outfitted lady, created by the artist who designed the classic Harper's Bazaar magazine covers. Stunning.
Barry Chukerman, director of client development, was the real masterpiece. Even though we clearly weren't going to purchase anything (prices ranged into five figures), Chukerman was absolutely delightful -- no nose in the air, and all browsers welcome. He showered us with attention and told us about the pieces and artists in great detail. If I can ever actually afford art, I'll start here.
On to "Feast of Fools" (now playing at the Marine's Memorial Theatre), a delightful musical romp of pantomime and Vaudeville, featuring the wacky, manic Geoff Hoyle and his delightfully dour accompanist, Gina Leishman. The acts range from silly to bittersweet, with something to please everyone, whether you're with little ones or taking Grandma out for a night on the town.
It's hard to describe the show without giving anything away, because the surprise of Hoyle's sheer madness is what's so wonderful. You never know what he'll do next. When he tussles with his "twin" fool on a stick, an entire conversation takes place without a single word uttered. Hoyle just doesn't need words to communicate. For that matter, there are no words in the whole performance. If your traveling companions don't speak English, this a perfect.
The "Four Stages of Man" act is simply breathtaking - an entire lifespan, acted out to ethereal music played by Leishman on a bank of partially-filled musically-tuned wine glasses. This act alone is worth the price of the ticket: poignant perfection. Be prepared to dab a tear.
The next day, after a restful night at the Bijou, we explored Chinatown. After wandering through the shops (no, I didn't make it out without a silk kimono) we stopped for lunch at the Grand Palace, located on the main drag in Chinatown. The food was great, the service was not.
We arrived during dim sum, and enjoyed broccoli shoots and handmade noodles with mushrooms. However, we also ordered something from the menu, and the dim sum abruptly stopped. Time and again, the dim sum carts passed us by, until finally a waitress practically barked at us to ask if we were finished. She then hovered over us until we paid her immediately, and commanded us to leave a tip on the table.
What's up with that?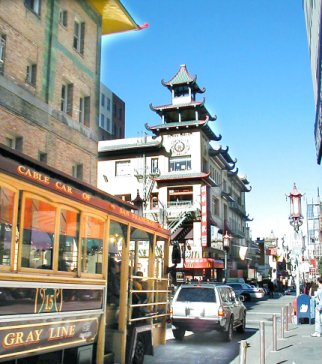 The restaurant patrons were mostly Chinese, so maybe my daughter and I had our first taste of racial discrimination? Or we committed some inexcusable dim sum transgression? Who knows.
"Now we know where NOT to go," grumbled my daughter. Agreed. There are too many fabulous restaurants in San Francisco to tolerate bad food or bad service.
The Hotel Bijou's service makes up for it. (Yes, we're back at the hotel now. Keep up with me.) Jot these names down: Gill Elklos and Shane Dupuy, gems both. Amazingly helpful and courteous, they'll make any arrangements you might desire, from dinner reservations to calling a cab.
"Let us do all the work for you," Shane said with a smile. I like this guy.
Gill was a saint. I must have asked her 100 questions when I was planning our day, and she patiently answered each one, drew maps and phoned for information. Whether she went shrieking into the back room after I left, I don't know. But if there's anything you need to know about getting around, Gill's your gal. She'll even lock up your belongings until 3 p.m. after you've checked out, so you can get the most from your valet parking.
If you want to know about the hotel itself, ask Shane: Hotel Bijou was once a brothel, then a residential hotel before being transformed by the Joie de Vivre property management company in 1997. The area was once known as a "gentlemen's club district," on the edge of the Tenderloin district, but Shane emphasizes that the area's been cleaned up.
Yes, Hotel Bijou is near the Tenderloin. If you drew a line between the Union Square area and the Tenderloin, the hotel is on the line. Don't let that worry you. I had no problems whatsoever walking around with my daughter and besides, you can always take a cab. Rule of thumb: when you walk out the hotel's front door, do NOT turn right. You won't like the neighborhood. Turn left, and you're immediately kitty-corner to the Hotel Nikko, one of the area's most expensive hotels. The area ain't all that bad, folks. Trust me, I'm a Nervous Nellie, and I have no hesitations about returning to the Hotel Bijou. Over and over and over.

How to reach them: Call (800) 771-1022, or visit their page on the Joie de Vivre website: www.jdvhospitality.com/hotels/sf_bijou.html
65 rooms are available, ranging from $105-119 during peak season and $89-99 in non-peak season. To get the $99 special that includes parking, call the hotel directly and ask for it.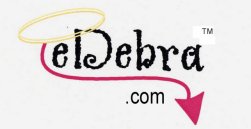 Home Page