Nothing but happy campers (of all types) at Costanoa
By DEBRA LO GUERCIO
©Copyright 2001,2002, Debra Lo

Guercio

, all rights reserved


Been there, haven't done that. Yes, I visited the beautiful Costanoa resort, located on the pristine Highway 1 shoreline near Pescadero. But I really didn't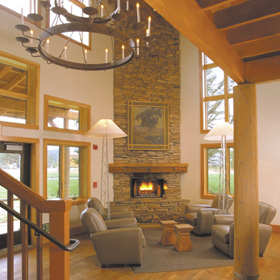 experience it fully. I arrived woefully unprepared, and by the time I got into the flow of things, it was time to go home. That means I'll just have to go back. Oh darn. But next time around, I'll be ready. This is the value of a travel column: I make all the mistakes first so your trip can be a real joy, minus all the stumbles.
If you go to Costanoa expecting the conveniences of a typical resort hotel, you'll be caught off guard. Yes, the lodge at Costanoa is gorgeous -- the rooms and lobby trimmed in wood, metals, stone and natural fabrics – but the Hyatt it ain't. There is no cable TV or room service to bring you a late night BLT or on the grounds, no posh restaurant or brass and polish bar.
If you packed your favorite little black dress and matching stilettos, they will get no farther than your suitcase. What you will need to pack are your most comfortable jeans, hiking shoes, a warm jacket and plenty of T-shirts. Think Eddie Bauer, not Nordstrom, and you'll do just fine.
So what is Costanoa, exactly? It is a camper's paradise for campers of all levels of interest. At one extreme, the aforementioned lodge is just perfect for campers of my caliber: as far as I'm concerned, the best way to camp is not at all. I don't like bugs (the ugly ones, that is), I don't like to sleep on the ground, I don't like to get dirty unless a hot shower is readily available and I don't like venturing into any territory where there might be creatures who would view me as a potential entrée. In particular, I don't like sleeping anywhere that doesn't include a door that can be deadbolted at night.
However, I love the forest and the beach, and adore creatures of a gentler nature, such as birds, butterflies and lizards, all of which were in abundance along the paths winding through the Costanoa grounds. If you fall in the Camper Lite category (make it Ultra Lite, in my case) Costanoa is a perfect way to enjoy the beach, forest and wildlife without ever having to fire up a Coleman lantern.
If that was all there was to report about Costanoa, we'd have a feature right there. This is what sets the resort apart from others: its diversity. Costanoa has a wide variety of accommodations. Just below the lodge level are wood cabins, offering more privacy than a lodge but still plenty of protection from the elements, and just below that are canvas cabins, which allow light and air inside like a tent, but also offer beds and doors that can be locked.
For campers who prefer the more traditional experience, there are regular campsites and RV parking. Best of all, community shower rooms and bathrooms are available for guests using the cabins and campsites, and if one tires of hot dogs and s'mores for breakfast, lunch and dinner, there is a general café and store on the grounds that offers deli-style meals as well as snacks and necessities.
Do not go to Costanoa planning to while away the hours in pricey little boutiques and shops filled with seaside souvenirs. Costanoa is a place to escape the traditional sort of tourist traps and partake of the exquisite natural beauty surrounding the grounds. Just across Highway 1 are pristine beaches, lined with fine, white sand and edged in rolling dunes covered with sea grass. The hike from the grounds to the beach takes about 10 minutes and is enjoyable in and of itself. My two young sidekicks and I embellished the walk by singing bubble gum classics (we mangled "I Think I Love You" quite nicely) at the tops of our lungs as we walked. There is nothing like endless nature to unleash your uninhibited, playful side.
One word of caution, however: the walk from the grounds to the beach is not for unattended children. The trek requires that you cross Highway 1 on foot, and there is no crosswalk. The traffic flashes by at freeway speed and under no circumstances would I allow children or preteens to cross without an adult.
With all the natural beauty of the area, all sorts of recreation is available: horseback riding, biking, kayaking and hiking being the most obvious choices. Horses and bicycles are both available for rent on the grounds. For the less adventurous, yoga classes and massage are available at the lodge, as well as a sauna and hot tub. Nearby attractions include Big Basin State Park, Butano State Park, Ano Nuevo State Reserve and the Pigeon Point Lighthouse, which is the second tallest lighthouse on the west coast and offers weekend tours.
Since my companions and I had packed for our visit as if we would be staying in a downtown San Francisco hotel with everything we might need at our fingertips and wouldn't be hiking up anything more rugged than a stairwell, we were not really able to enjoy the best Costanoa had to offer aside from an afternoon on the beach. But it wasn't a complete loss. The girls played happily in the sand and water, while I catnapped and listened to the sound of the waves crashing on the shore and seagulls laughing in the breeze. That beats a cruise through Macy's any day.
When dinnertime rolled around, we opted for an easy 20-minute drive south to Santa Cruz. There was still plenty of daylight left, so we strolled down the Boardwalk and took a ride on the classic wooden roller coaster (the girls went twice) and then drove around in search of a pizza parlor. Seems like it should be an easy task, no? Well… no. After circling the Boardwalk and downtown areas twice, and being unable to locate even a Round Table, we settled on a quite forgettable dinner at the Mei Garden restaurant. The food there was adequate if your tummy is rumbling, but if your appetite can be put on hold a few more minutes, keep driving.
Following dinner, it was back to base camp at Costanoa and my daughter and her pal were full of energy with plenty of time to fill before bedtime. There was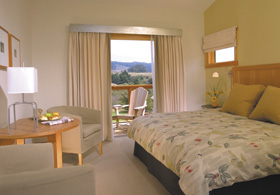 heavy traffic in the hot tub and sauna, so we opted to hang out inside and enjoy our lovely room. A firelog was provided and the room was equipped with an impressive little Bose stereo that carried an all-oldies channel without commercial interruption.
With a nice little fire going and "Surfer Girl" playing softly in the background, we chatted and snacked on some goodies we picked up at the market on the ride back: carmel apple suckers, red licorice and cream soda. At least one thing about our visit to Costanoa was typical of a vacation getaway: junk food is an allowable indulgence.
The girls had packed plenty of teen magazines for the trip and dug into the latest information on issues of great adolescent import, such as skin care and the latest lip gloss hues. For the most part, I leafed through the Costanoa booklets left on the dresser and stayed clear of their conversation, with the exception of an article entitled something like "When Am I Ready to Kiss a Boy?" I had a ready answer for these two 13-year-olds: When you are 35 or married, whichever comes first.
While we were spending this quiet time, I came across an article in a book about Costanoa in which I discovered a line that brought the goal of the entire resort into focus: Costanoa is a place where you can disconnect from civilization for awhile. Aha! NOW I get it. Disconnect from civilization. No television. No cable. No waiting for a table in the restaurant or hailing a cab. The reason you spend time at Costanoa is to get away from all that.
Suddenly, I began to really appreciate the peacefulness of the resort. In fact, after 10 p.m., there is a mandatory "quiet time." No amplified sound or otherwise intrusive sound allowed. Nothing more jarring than conversations around campfires or feet walking up the gravel paths, or girls giggling over the pitfalls of kissing boys. It was about that time that I leaned back in the chair, put my feet up on the bed, closed my eyes and just reveled in the pleasure of doing nothing.
Bedtime rolled around, and I was delighted to discover that the beds and pillows at Costanoa are superb. I'm a bit finicky on that topic, having a bit of a "princess and the pea" problem, and the beds at Costanoa – covered in soft, down comforters – are superb. After a sound night's sleep, I left the girls sleeping, put the in-room coffeemaker to use and enjoyed a cup of coffee on the patio, just watching morning wipe the sleep out of her eyes.
Nothing could be more therapeutic than pulling on your most comfy sweatshirt, lazing back in an Adirondak chair with a hot cup of coffee and watching the morning fog drift slowly through the treetops. Heaven. Just Heaven. I'd have sat there all morning, but I had a job to do. There were pictures to take and mental notes to be made, so I forced myself to wander the grounds for a bit. Walking down the paths by the cabins, a few guests wandered out of their lodgings in bathrobes, holding coffee cups of their own, looking just as serenely bleary-eyed as I felt.
Back up at the lodge, I discovered that a wonderful continental breakfast was set out for guests, with everything from granola and juice to bagels and cream cheese. And more coffee. (Can you ever have too much coffee?)
I sampled a bit of this and that, and then herded the girls down for a bite to eat before we hit the road. We loaded up the car and I felt a bit gypped, all by my own doing. I was a bad Girl Scout. I was not prepared. I'd have gotten so much more out of my visit had I packed some wine and cheese, some steaks for the grill, my sneakers and a pair of jeans. If only I'd brought a novel and a big blanket for the beach, and a picnic basket that I could have filled with scrumptious sandwiches from the delicatessen at Costanoa's General Store.
No, I didn't do Costanoa right the first time. But thankfully, I am sure that I will treat myself to a second chance, and even a third and fourth. Who knows – maybe someday I'll be so practiced at this camping thing, I just might try a cabin.

About Costanoa: Lodging at Costanoa ranges from tent sites at $30 per night to premium rooms in the lodge at $240. Canvas cabins cost from $70 to $130, with traditional private wood cabins available for $175. For more information, call Costanoa at (800)738-7477, or visit their website: www.costanoa.com.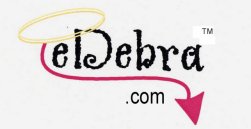 Home Page