Leaving Your Heart in San Francisco 101 -- a beginner's course


By DEBRA LO GUERCIO
©Copyright 2001,2002, Debra Lo Guercio, all rights reserved


Admittedly, this little ride to San Francisco still has the training wheels firmly attached. Some of us are still just getting to know the City by the Bay. However, no matter how many times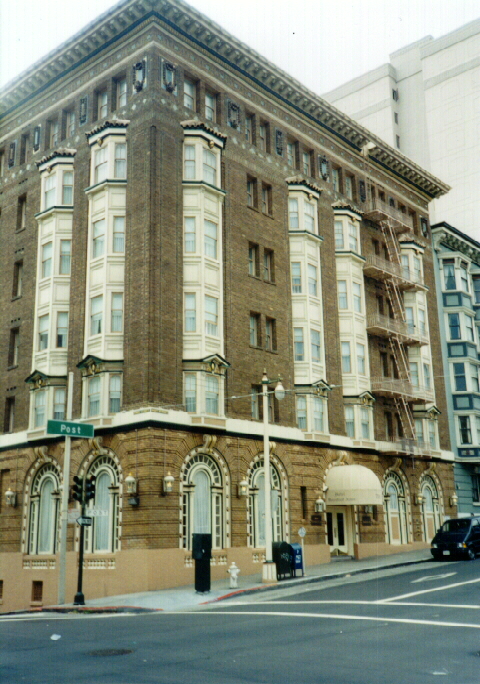 you've visited, you can always find something new there. That's what keeps bringing me back to San Francisco - it's a bottomless treasure chest of discoveries.
First off, you're wondering, why spend the night in San Francisco when it's practically in our back yard? Simple: parking. If you're staying for more than a few hours, it can cost $25 to park your car in San Francisco (even if you are staying in a hotel) and that buys you up to 24 hours in a parking garage. You might as well spend the night and get your money's worth.
Besides, if you spend the night, you can enjoy yourself in one of the many nightclubs or pubs without worrying about who will be the designated driver for the ride home. You can just walk back to your room.
But where to walk back to. The choices are overwhelmingly endless. And costly. A room in San Francisco can easily run $250 or more per night. But there are still some bargains to be found, and oh, did I find a gem in the Union Square area, and that's where our visit begins.
Two quick blocks from Union Square, where die-hard shoppers can find everything from a ridiculously pricey seven-story Macy's to offbeat little boutiques, is the most charming little Victorian hotel you could ever hope to find: the Beresford Arms, located at the corner of Post and Jones streets. With an AAA card, a night for two at the Beresford Arms is a mere pittance by Bay Area standards: only $129. (By the way, if you don't have an AAA card, get one. We'll be using it a lot.)
The cut-rate price does not mean cut-rate treatment. This darling turn-of the century Victorian apartment building has been transformed into a hotel, and features a light, airy lobby, lavishly decorated with swirling, golden Louis XIV trimmings. In this gorgeous lobby, the Beresford Arms staff greets their guests each afternoon with complimentary wine and cheese.
After dodging the traffic on your way there, you'll really appreciate relaxing on the antique sofas and sipping a cool glass of Chardonnay. It's a perfect place to unwind and discuss plans for the evening . And in the Bay Area, "plans" could be any activity your heart desires -- music, food, theater and dancing are in abundance. In the Union Square area alone, there is a cornucopia of choice.
Of course, you'll need to catch a bite to eat before or after the performance, and cuisine is where San Francisco shines. Here's the bottom line when dining there: The choices are so vast and the quality so high, there is no reason to settle for food or service that is anything short of perfection.
Your choice of restaurants depends on the age of your traveling companion(s). If they are youngsters who haven't yet developed palates that savor veal parmegiana, try Lori's Diner, located at Powell and Sutter. With its non-stop '50s music, sparkly red leatherette booths, black and white checkerboard floors, pinball machines and gen-u-ine '59 Edsel parked right in the middle of the room, this place will charm the children. The food there is fool-proof: burgers, fries and shakes, all at reasonable prices.
Another choice the kids will like (particularly little baseball fans) is Lefty O'Doule's, just around the corner from the Beresford Arms on Geary Street, between Powell and Mason. By day, Lefty's is a 1940s-ish sports bar and cafeteria, with old-fashioned, stick-to-your-ribs eats like roast beef, mashed potatoes, cole slaw and blackberry pie. You won't find any new-fangled curly fries or veggie burgers at Lefty's. From the food to the classic baseball memorabilia adorning the walls, Lefty's remains true to a nostalgic past.
If you're traveling with someone old enough to cut his or her own meat, wait until later in the evening to visit Lefty's. Skip the food line, park yourself at the piano bar and order a round. If you've never had cocktails and sang at a piano bar, you're missing one of life's most raucous and light-hearted experiences. Be warned: This ain't no karaoke. Karaoke is for wussies. You have to know the words yourself at a piano bar.
The key to having a blast at a piano bar is in remembering that no matter how humiliatingly off-key your rendition of "Blue Bayou," none of these folks will ever see you again. You might as well have fun. Besides, at a piano bar, everyone's a star and, moreover, everyone's your buddy. You'll be rewarded with rousing cheers from your fellow amateur lounge-lizards, no matter how badly you slaughtered "Your Cheatin' Heart."
If you really want to get a piano bar crowd going, belt out "Lucille" (of "you-picked-a-fine-time-to-leave-me" fame). There are a few off-color embellishments known only to piano bar singers that you'll never hear on the radio.
If you're looking for a slightly less rowdy evening, like a lovely dinner and some good wine, walk over to Scala's Bistro, located just outside the front door of the Sir Francis Drake Hotel at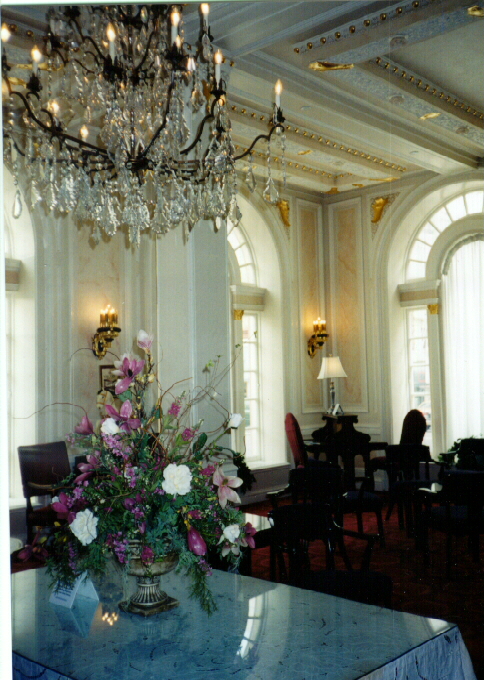 Sutter and Powell. It can get crowded at Scala's, so reservations are advisable.
Scala's, which is just casual enough to still be comfortable, boasts two attractions: wonderful food and outstanding service. Whatever delectable dish you select (you can't make a bad choice), start with the Earth & Surf appetizer. This delicious pile of battered and lightly fried calamari, shrimp, onion, green beans and fennel is so wonderful, you'll be tempted to skip the entree and just order another platter. But don't. It only gets better.
One entree in particular at Scala's is about as close to a sexual experience as your mouth will ever have: the pesto and ricotta ravioli bathed in lemon creme sauce. It could bring tears to your eyes. Trust me on this one. This dish is simply outstanding. May they never remove it from the menu.
One other note about Scala's: Being a customer still means something there. Our table was ready immediately. The service was impeccable. When we wanted a particular bottle of wine that was not on the list, the waiter found it for us. And, each time we've had dinner there, the lovely manager came up to our table herself and asked if everything was to our liking. That impressed me. She didn't know her actions would end up in print. We were just two faces in the crowd. We were nobody special. But we were treated as if we were. That type of treatment will make me a regular.
If the night is young, there's still time to explore. Take a walk around Union Square and make discoveries of your own. If you decide to wander beyond Union Square, hail a cab. The last thing you want to do in San Francisco is drive. Between the hills, the kamikaze drivers, and the scarcity and expense of parking, San Francisco is one place where you want to park your car and leave it there until it's time to go home.
If your ravioli-filled tummy has left you drowsy, you'll be glad you're just a quick walk back to the Beresford Arms, where the beds are soft and comfortable, and the simple yet charming rooms quiet and clean. In the morning, when you toddle bright and early back down to that beautiful lobby, you'll discover a sumptuous spread of complimentary coffee, tea, croissants and muffins, and other guests lounging with their treats and the morning newspaper.
If it's a nice day outside, the lobby doors will be open and the white chiffon curtains will be fluttering softly from the towering windows, where just outside one of the most fascinating and beautiful cities on earth waits to be discovered, bistro by bistro, pub by pub, boutique by boutique.
Catch a cable car on Powell Street, just for the ride if nothing else, and check out the tourist spots like Fisherman's Wharf and Chinatown, or just start walking and see where your heart takes you. But keep close tabs on it in San Francisco. Hearts have a way of getting left there.
(The Beresford Arms is located at 701 Post Street. For reservations, call (800) 533-6533, or visit their website, www.beresford.com. Junior and parlor suites are also available, for $149 and $179 respectively. For reservations at Scala's Bistro, located at 432 Powell Street, call (415) 395-8555. You do not need reservations at Lefty O'Doule's. Just show up. Ditto for Lori's Diner.)